Dr. Donald Ekong
Associate Professor of Computer Engineering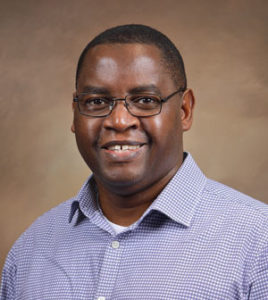 Dr. Donald Ekong is an Associate Professor of Computer Engineering at Mercer University, in Macon, GA. He received his B.Eng. in Electrical and Electronics Engineering at the University of Port Harcourt in Nigeria, and his M.Sc. and Ph.D. in Electrical Engineering at the University of Saskatchewan in Canada. He is a registered engineer in Georgia, USA, and Saskatchewan, Canada. He is also a Senior Member of IEEE. Before coming to Mercer University in 2002, he worked in industry as a Senior Engineer at Ciena Corp in Alpharetta, GA, a Senior Engineer at Motorola in Tempe, AZ, and a Systems Engineer at Valmet Automation in Calgary, Canada.
Education
Ph. D., Electrical Engineering, University of Saskatchewan, Canada
M. Sc., Electrical Engineering, University of Saskatchewan, Canada
B. Eng., Electrical/Electronics Engineering, University of Port Harcourt, Nigeria
Area(s) of Specialization
Computer Engineering
Computer Security
Mobile App Development
Research/Professional/Teaching Interests
Computer architecture
Computer networks
Computer programming
Computer security
Digital logic
Microcontroller programming and interfacing
Mobile app development
Service learning
Utilizing mobile technology to improve healthcare
Recent Awards/Activities
Member, Macon Toastmasters Club
National Science Foundation (NSF) Scholarships Panelist, 2017/2018
Medical Informatics Fellowship, National Institutes of Health (NIH), Summer 2016
Other Interests
Use of mobile app development and robotics to support STEM education
Recent Publications
D. U. Ekong, S. L. Walthall, and H. J. Ballenger, "Lessons Learned Using Mobile App Development to Foster Female Students Interest in STEM Majors and Careers", Transactions on Techniques in STEM Education, vol 6, no. 1, pg 29-34.
D. U. Ekong and P. Fontelo, "Prototype Telepathology Solutions that use the Raspberry Pi and Mobile Devices", IEEE Global Humanitarian Technology Conference, San Jose, CA, October 19–22, 2017.
D. Ekong, F. Liu, G. T. Brown, A. Ghosh, and P. Fontelo, "Evaluation of Android Smartphones for Telepathology", Journal of Pathology Informatics, 8:16, April 2017.
D. U. Ekong and M. W. Mathis, "A Survey to Identify Requirements for Applying Mobile Technologies towards Improving Services Access in Underserved Communities", IEEE Global Humanitarian Technology Conference, Seattle, WA, October 13–16, 2016.
D. U. Ekong, "An Instructional Module for Teaching Ethics within an ECE Curriculum", IEEE Southeast Conference, Fort Lauderdale, FL, April 9 – 12, 2015.
Contact
---
478.301.2271
ekong_d@mercer.edu
Office: Engineering Building 223C