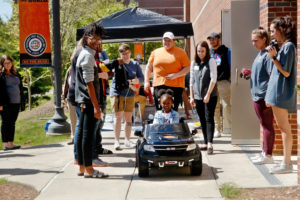 GoBabyGo
Mercer Engineering is proud to partner with GoBabyGo, a national, community-based research, design and outreach program that began in 2012 at the University of Delaware. Integrating assistive technology, families, clinicians, and industry partners, the program helps provide children with disabilities the opportunity for movement, mobility and socialization.
Through GoBabyGo, members of Mercer's School of Engineering work with students in the College of Education and College of Health Professions to build and modify toy cars to meet the needs of children with disabilities. Since 2016, Mercer faculty and students have built more than 90 cars to support families in the local community.
"From an academic perspective, GoBabyGo events introduce and reinforce basic electronics concepts through hands-on activities and promote the service-focused nature of not only the School of Engineering but also the larger Mercer University community."

Dr. Philip McCreanor | Professor of Environmental Engineering
Adaptive Toys
Engineering faculty and students have also addressed mobility challenges by creating adaptive toys for children with disabilities. Adaptive toys refers to modifying toys so that children with manual dexterity issues can activate and interact with them. Mercer Engineering even offers a course in adaptive toys, where gently used toys are collected and then evaluated and modified where appropriate.
Recent examples include:
A bubble that comes in six different animal-shaped varieties, which is modified with a larger button for children to push and allow for more engagement.
A portable interactivity device that a child with limited speech skills could use to answer simple questions and indicate their emotional status and needs (happy, frustrated, etc.)
A body weight support frame that could be assembled over stand up toys (kitchen, work table, lab bench, etc.) so a child with stability issues could interact with those toys
Our goal is to grow these programs so that our faculty and students can support more children in the local community with different needs.