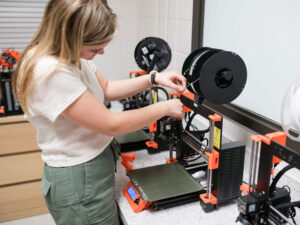 Create and Innovate
Mercer Engineering's Fabrication Lab (Fab Lab) is open 24/7 and provides a space where students can explore research opportunities, collaborate with fellow students, complete assignments, and more. Students using the Fab Lab benefit from access to cutting-edge tools such as:
FDM 3D printers
SLA 3D printers
SLS 3D printer
Laster cutter
CNC plasma cutter
Spot welder and metal brake
Electrical circuit supplies and tools
Power and hand tools
Wood working area
3D scanner
PCB CNC
Roland CNC
Equipment to make carbon fiber parts
Sand blaster
Cricut vinyl cutter
Programmable embroidery machine
The Fab Lab is open to all School of Engineering students. However, any other Mercer students who would like to work in the space can contact the Engineering Laboratory Coordinator to gain access.
Below is a self-enroll link to the Engineering Fabrication Lab Canvas course. The Canvas course provides access to safety and how-to tutorials for many of the available tools, as well as all request forms.
If you are interested in using the Fab Lab or would like to learn more, contact Colin Petherbridge at 478.301.2113 or fablab@mercer.edu.