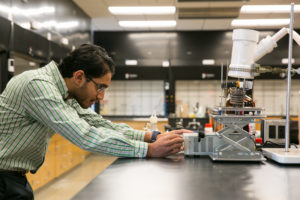 Protecting Public Health
In partnership with the Chemistry Department and other departments across campus, Mercer Engineering has participated in Mercer On Mission programs in areas affected by mercury pollution, including Ecuador, Guyana, and Peru.
Mining is an integral part of many rural communities around the world, and mercury pollution can be dangerous to the health of society. In a mining-dependent community, the economic benefits of mining typically outweigh the cost of health.
Mercer Engineering students have developed, tested, and installed mercury capture systems in Ecuador. Their capture systems can now be replicated in other mining communities across the world.
As the School of Engineering continues to partner with mining communities, there is a new project on the horizon. Mine tailings (debris left over from mining) often contain heavy metals and are generally left in landfills, which could contaminate ground water. Current research indicates that mine tailings could be used as construction material as part of a concrete mix.
A Mercer Engineering professor's research will show whether mine tailings could potentially be used as a sand replacement. By using mine tailings as a construction material, the heavy metals would be trapped in the concrete matrix and not contaminate the environment. Mercer Engineering faculty and students are working with other academic departments to determine the use of mine tailings in concrete and economic impact for rural mining communities.