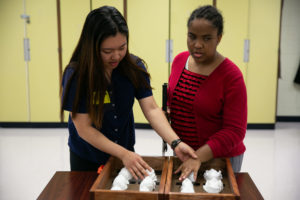 Touching Lives
Mercer Engineering students and faculty have access to 3D printers and spend time researching how to best utilize equipment and resources to impact our local communities and beyond.
In 2018, a team of Mercer engineering faculty and students worked together to use 3D printers to create "Touch 3D Yearbooks" for students at the Georgia Academy for the Blind in Macon, Georgia.
Since then, over 35 yearbooks have been created for the visually impaired students, creating memories that can be treasured for a lifetime.
"It's something that the visually able take for granted, being able to see family members, friends. I wanted to be a part of something that gives that to visually impaired students as well."

Jordan Brewton | Biomedical Engineering Student
This project has since been implemented into the Mercer On Mission South Korea trip, where team members plan to create 3D yearbooks and 3D family photos for visually impaired students at the Drim School, our Mercer On Mission partner in South Korea. Engineering students and faculty will teach the Drim School students about the 3D printing process, so they can continue the project after the trip is over.
The goal is to share this research with schools and centers across the United States and around the world, to create yearbooks and memories for visually impaired youth.
Creating Solutions
Collaboration is an important component of the work we do in Mercer engineering, and students often have the opportunity to work alongside faculty on projects and research, using 3D printers to answer questions and solve problems.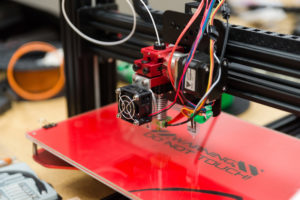 Currently, 3D printing technology is being used to make a realistic 3D human respiratory system to evaluate inhalation drug delivery systems, including the e-cigarette. The respiratory model is created using medical CT images to create a realistic shape. This model can be used to measure the efficiency of drug delivery into the lung airways.
Engineering students and faculty have also been studying how to make 3D printed human organs. The goal is to develop a material that mimics the mechanical properties of human tissue for physician training. In the future, 3D printing may offer an alternative to cadaver dissections and virtual dissections for the medical community.
Providing Support
In response to COVID-19, Mercer University School of Engineering faculty and students fabricated reusable 3D-printed face masks for medical professionals in locations where personal protective equipment (PPE) supplies have been depleted by the sharp increase in patient numbers.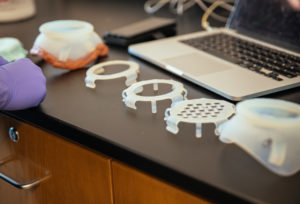 Partnering with Coliseum Medical Centers, they successfully put their mask prototype through a fit test with local physicians and nurses to confirm its effectiveness. Following the successful test, our engineers fabricated masks and distributed them to medical facilities and healthcare practitioners that have indicated a need for alternative PPE as a stopgap measure for employees until FDA-approved PPE is available.
In addition to producing the masks, the University has made information on the materials and the .STL files for computer-aided design software available to the public.