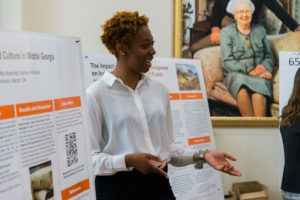 Breakthroughs in Engagement, Arts, and Research
Mercer University hosts its annual Breakthroughs in Engagement, Arts, and Research (BEAR) Day each spring to showcase outstanding student research and special projects from the College of Health Professions, College of Liberal Arts and Sciences, School of Engineering, Stetson-Hatcher School of Business, Tift College of Education, and Townsend School of Music.
Through BEAR Day, faculty, staff, and students from across campus join together to foster interdisciplinary discussion and collaboration.
BEAR Day is a great opportunity for Mercer Engineering students active in research to share their results and accomplishments with the broader Mercer community through poster or oral presentations. It's also a great opportunity for senior engineers to present their senior design projects – the culmination of their time as engineers at Mercer.