Dr. Edward M. O'Brien
Professor of Biomedical Engineering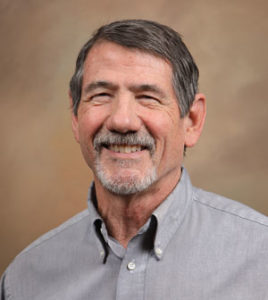 Dr. Edward O'Brien came to Mercer University in 1990 after having taught at Iowa State, Clemson, and Texas A&M Universities. He has taught in Biomedical Engineering Departments and Electrical and Computer Engineering Departments.
Education
Ph.D., Biomedical Engineering, Iowa State University
M.S., Biomedical Engineering, Iowa State University
B.S., Electrical Engineering, Colorado State University
Area(s) of Specialization
Analog and Digital Electronics
Instrumenation
Microcontroller Applications
Signal Processing
Research/Professional/Teaching Interests
Dr. O'Brien's professional interests involve the application of electronics, computers, and sensors to the field of biomedical engineering. His teaching interests align with these and with giving both the undergraduate and graduate student the best hands-on learning experience to enhance their understanding and practice of the engineering profession.
Other Interests
Dr. O'Brien has been actively engaged in the Mercer On Mission Vietnam program since in 2011. He has focused on the fitting of deserving amputees with prosthetics and on the training and personal development of the students who participate on the trips.
Recent Publications
Vo, H., Le, T. T., Nguyen, B. N., Kunz, R. K., O'Brien, E. M., McMahan, C. C. (2016). The Novel Design of Mercer Universal Prosthesis (vol. 63). Macon: Springer (IFMBE International Federation for Medical and Biological Engineering).
Brett, E., Yin, M., Ha Van Vo, O'Brien, E. M., Sumner, L. B. S., McCreanor, P. T. (2015). F-Scan Analysis of Prosthetic Fittings through Mercer on Mission Vietnam. 5TH INTERNATIONAL CONFERENCE ON BIOMEDICAL ENGINEERING IN VIETNAM, 46, 495-498.
Contact
---
478.301.2212
obrien_em@mercer.edu
Office: Science and Engineering Building 225