Dr. Guiseppe Getto
Associate Professor of Technical Communication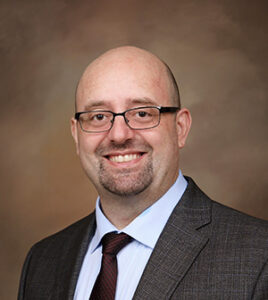 Dr. Guiseppe Getto joined the Mercer University Department of Technical Communication in 2022 from a position at East Carolina University. His research focuses on utilizing user experience (UX) design, content strategy, and other participatory research methods to help people improve their communities and organizations.
He has published a co-edited collection, Content Strategy in Technical Communication, with Routledge. The findings of his research have been published in peer-reviewed journals such as IEEE Transactions on Professional Communication; Technical Communication; Computers and Composition; Rhetoric, Professional Communication, and Globalization; Communication Design Quarterly; and Reflections; as well as conference proceedings for the Association for Computing Machinery's Special Interest Group on Design of Communication (ACM SIGDOC). His work has also appeared in industry-based publications such as Intercom and Boxes and Arrows.
He has taught at the college level for nearly twenty years and has consulted and formed research and service-learning partnerships with many non-profits and businesses, from technical writing firms to homeless shelters to startups. He is also a poet. His first book, Familiar History, is currently available from Finishing Line Press: http://guiseppegetto.com/poetry/. Read more about him at: http://guiseppegetto.com.
Education
Ph.D. in Rhetoric and Writing, Michigan State University
M.A. in Composition Theory, California State University-Fresno
M.F.A. in Creative Writing, California State University-Fresno
B.A. in English, University of Nevada-Reno
Area(s) of Specialization
User experience (UX) design methods and practice
Content strategy methods and practice
Participatory Action Research (PAR) and other participatory research methods
Outreach and engagement
Social justice
Service-learning
Research/Professional/Teaching Interests
Dr. Getto believes that in a democratic society all citizens deserve equal access to the most effective means of communication. As a first-generation college graduate and Ph.D. from a low-income family, he knows all too well how valuable a teacher committed to introducing cutting edge knowledge can be. Toward this end, he believes in encouraging both students and community members he works with to utilize a variety of technologies and communication practices so that they might learn to shape the most effective communication possible given their goals, their audiences, and the resources available to them.
Other Interests
In his free time, Dr. Getto enjoys meditating, hiking, reading, writing poetry, gaming, the martial arts, fitness, hanging out with his wife, Jessica, and their 3 cats, Amy, Penny, and Margery, and ruminating on the cancellation of the TV show Firefly.
Recent Publications
Getto, G., Labriola, J., & Ruszkiewicz, S., Eds. (2019). Content strategy in technical communication. Routledge.
Getto, G. & Flanagan, S. (2022). Helping content strategy: What technical communicators can do for non-profits. Technical Communication, 69(1), 54-72.
Flanagan, S. & Getto, G. (2022). What UXers do and earn: Findings from an exploratory survey of UX professionals. 2021 IEEE International Professional Communication Conference (ProComm), 50-57.
Getto, G. (2020). The story/test/story method: A combined approach to usability testing and contextual inquiry. Computers and Composition, 55, 1-13.
Getto, G., Flanagan, S., & Labriola, J. (2021). Designing boater advocacy: A Lean UX mobile app project to increase emergency response accountability. Proceedings of the 39th ACM International Conference on Design of Communication, 118–127.
Contact
---
478.301.2149
getto_ga@mercer.edu
Science and Engineering Building 241