Dr. Joan Burtner
Associate Professor Emerita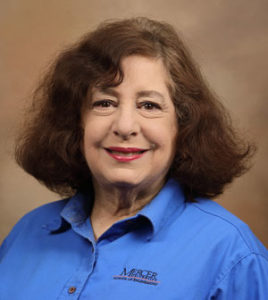 Dr. Joan Burtner is an associate professor emerita at Mercer University. She is a Certified Quality Engineer and a Lean Six Sigma Black Belt. She joined the faculty in 1991. She teaches courses in engineering statistics, statistical quality control, quality management, quality engineering, engineering management case studies, healthcare process improvement, and Lean Six Sigma. She is the author of journal articles published in The Journal of Nursing Administration, The Journal of Engineering Education, The Journal of Pharmacy Practice, and The International Journal of Engineering Education. In addition, she has written more than 40 articles for conferences sponsored by ASQ, SHS, IISE, and ASEE. She has been employed as a quality engineer at Bassett Furniture and the Mercer Engineering Research Center.
Education
Ed.D., Instructional Technology & Distance Education, Nova Southeastern University
M.S.E., Engineering Management, Mercer University
B.S.E., Industrial Engineering, Mercer University
Area(s) of Specialization
Healthcare Process Improvement
Lean Six Sigma
Quality Engineering
Research/Professional/Teaching Interests
Dr. Burtner's primary research, presentations, and teaching interests are in the areas of healthcare process improvement, quality engineering, and Lean Six Sigma. In addition, she conducts qualitative research on career paths of Mercer University industrial engineering and industrial management alumni.
Other Interests
Dr. Burtner enjoys attending Cons while cosplaying characters from Star Wars, Stranger Things, and My Hero Academia. She is an amateur watercolor artist and an avid gardener.
Recent Publications
Burtner, J. M., & Biswas, P. (2018). Translating Time Study Implementation from Academia to the Real World. Daytona Beach, FL: ASEE Southeast Section Conference.
Shogbon, A. O., Jacob, B. C., Kimble, L. A. P., Peasah, S. K., Burtner, J. M., Moody, L. E., Ryan, G. J. (2017). Time Motion Analysis of Nurses Utilizing Insulin Pen Devices Compared to Vial and Syringe in an Inpatient Setting. Journal of Pharmacy Practice. Published. Retrieved from http://journals.sagepub.com/eprint/8wXt8hpIfTKWHc6G3sI8/full
Burtner, J. M., Hollingshed, M. D., & Barnett, S. (2017). Helping Engineering Students Decide on the Advantages of Obtaining Lean or Six Sigma Certification. San Juan, Puerto Rico: ASEE Southeast Conference Proceedings.
Hollingshed, M. D., & Burtner, J. M. (2017). The Case for Lean Six Sigma Certifications for Engineering Faculty. San Juan, Puerto Rico: ASEE Southeast Conference.
Moody, L. E., & Burtner, J. M. (2016). Opportunities, Challenges, and Locus of Control in Undergraduate Research in Healthcare Settings. In ASEE Annual Conference and Exposition, New Orleans, Louisiana. https://peer. asee. org/25837.
Alvarez, M., Kerr, B., Burtner, J., Ledlow, G. and Fulton, L. (2012). "Outsourced Nursing Levels and Effects on LTACH Quality Outcomes". Poster presented at the Acute Long Term Hospital Association National Clinical Conference, Dallas, TX
Alvarez, M., Kerr, B., Burtner, J., Ledlow, G. and Fulton, L. (2012). "Chief Nursing Officer Preferences when Utilizing Outsourced Nurses in LTACH". Poster presented at the Acute Long Term Hospital Association National Clinical Conference, Dallas, TX
Burtner, J. M. (2012). Design and Analysis of Open Response Surveys. Las Vegas, Nevada: IISE Healthcare Systems Process Improvement Conference.
Alvarez, M. R., Kerr, B. J., Burtner, J. M., Ledlow, G., & Fulton, L. V. (2011). Effects of Outsourced Nursing on Quality Outcomes in Long-term Acute-Care Hospitals. JONA: The Journal of Nursing Administration, 41(3), 138-143. https://doi.org/10.1097/nna.0b013e31820c7258
Alvarez, M. R., Kerr, B. J., Burtner, J. M., Ledlow, G., & Fulton, L. V. (2011). Use of Outsourced Nurses in Long-term Acute Care Hospitals. JONA: The Journal of Nursing Administration, 41(2), 90-96. https://doi.org/10.1097/nna.0b013e31820594a8
Smith, S. and Burtner, J. (2010). "Beyond the DRG – Utilizing Secondary ICD-9-CM Codes for Data Analysis" Poster presented at the Society for Health Systems/ASQ Conference and Expo 2010, Atlanta, GA
Contact
---
478.301.4127
Burtner_j@Mercer.edu
Office: Engineering Building, 201A