Dr. Laura W. Lackey
Dean
Georgia Kaolin Industry Chair
Professor of Environmental Engineering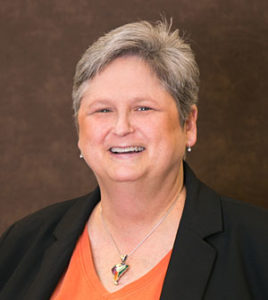 Dr. Laura Lackey joined the faculty at Mercer in 1998; she currently serves as Dean, Kaolin Industry Chair, and Professor of Environmental Engineering. She served as Department Chair and Associate Dean before transitioning to the dean's office in July 2017. She has taught more than 20 different courses that range from Introduction to Design to a variety of senior- and graduate-level courses. Dr. Lackey received the School of Engineering Teacher of the Year Award in 2001, 2007, and 2015. She was named to the All-SoCon Faculty Team in 2016 and in 2020 was chosen as one of the top 100 women in Georgia Engineering by the Engineering Georgia magazine. Before coming to Mercer University, Dr. Lackey worked for six years as a chemical engineer for the Tennessee Valley Authority. She has published over 60 journal articles, a textbook on environmental engineering, and holds two patents. She is a registered professional engineer and a Board Certified Environmental Engineer.
Education
Ph.D., Chemical Engineering, University of Tennessee, Knoxville
M.S., Chemical Engineering, University of Tennessee, Knoxville
B.S., Chemical Engineering, University of Tennessee, Knoxville
Area(s) of Specialization
Biofiltration
Global Water, Sanitation, & Hygiene (WASH)
Oxidation of organics
Point-of-use water filtration
Research/Professional/Teaching Interests
Dr. Lackey has an active interest in the Mercer On Mission program (mom.mercer.edu). During the past decade, her work has focused on developing and implementing sustainable solutions appropriate for marginalized communities around the world. Projects in Uganda and Kenya focus on using manual well-drilling techniques and in the development, installation, and monitoring of biosand filters to treat surface water. Work in Ecuador and Peru focused on the design and testing of mercury capture systems intended to reduce emissions from artisanal mining processes that use mercury to extract gold from ore. She has also conducted potable water surveys in a variety of settings to determine the efficacy of local water treatment and distribution systems.
Dr. Lackey has conducted research on the biological and chemical oxidation of organics. She has actively served in the Southeastern section of the American Society of Engineering Education and as a Program Evaluator for ABET since 2009.
Recent Publications
Mihut, D.M., A. Afshar, L.W. Lackey, and K. Le, Antibacterial Effectiveness of Metalized Water Filter Paper by Magnetron Sputtering Deposition. Surface and Coatings Technology, 368 (June 25 2019), 59-66. https://doi.org/https://doi.org/10.1016/j.surfcoat.2019.04.039
Lackey, L., Semmendinger, K. & MacCarthy, M. Biological Sand Filter Performance Test Using Multiple Methods for Pathogen Detection: a Longitudinal Field Study in Kenya, Water Air Soil Pollut (2019) 230: 165. https://doi.org/10.1007/s11270-019-4218-6.
Mihut, D. M., Lackey, L. W., Hill, S. D., Lee, K., Research on Antibacterial Effects of Silver, Copper and Titanium Nanoparticles Deposited using DC High Vacuum Magnetron Sputtering on Filter Materials. 60th Annual Technical Conference Proceedings, 2017. http://dx.doi.org/10.14332/svc17.proc.42924
MacCarthy, Michael, and Laura W. Lackey, Engineering for Development (E4D) at Mercer University, Georgia Engineer, August 2016, 28-29. https://issuu.com/a4inc/docs/byfie_2016_august_web/1?e=3156446/40520179
Brett, M. Erin, Laura W. Lackey, and Philip T. McCreanor, The Influence of Metallic Biocide Concentration on the Deactivation Rate of Coliforms in River Water, Proceedings of the 2014 ASEE SE Annual Conference, Mercer University, Macon, GA, March 30 – April 1, 2014.
Lacey, E. Davis and Laura W. Lackey, Biosand Filter Performance: The Multi-Faceted Aspects of Poverty Observed in Sisit, Kenya, Proceedings of the 2014 ASEE SE Annual Conference, Mercer University, Macon, GA, March 30 – April 1, 2014.
Safford, Katherine E. and Laura W. Lackey, The Development of a Dual Media Biological Sand Filter with Added Component of Activated Carbon for Use in Vietnam, Proceedings of the 2014 ASEE SE Annual Conference, Mercer University, Macon, GA, March 30 – April 1, 2014.
Lackey, L.W., C. Smith, T. Poole, A. Fair, E. Hyde, P.T. McCreanor, and R.O. Mines, Jr., Design, Operation, and Analysis of a Biological Sand filter using Copper as a Disinfectant, Proceedings of the World Environmental and Water Resources Congress 2013: Showcasing the Future, Cincinnati, Ohio, May 19-23, 2013.
McCreanor Philip, T., Laura W. Lackey, Hodge Jenkins, Michael Leonard, and Sinjae Hyun, Encouraging Undergraduate Engineering Students to Generate Research and Design Publications, Proceedings of the 2013 ASEE SE Annual Conference, Tennessee Technological University, Cookeville, TN, March 10 -12, 2013.
Hyde, Elizabeth M. and Laura W. Lackey, The Impact of Loading Frequency and Copper as a Biocide on Biosand Filter Performance, Journal of Water, Sanitation and Hygiene for Development, 2013, doi:10.2166/washdev.2013.084.
Jones, J. Andrew, Laura W. Lackey, and Kevin E. Lindsay, Effects of Wind and Choice of Cover material on the Yield of a Passive Solar Still, Desalination and Water Treatment, March 2013, pp. 1 – 9, doi: 10.1080/19443994.2013.784715.
Contact
---
478.301.4106
lackey_l@mercer.edu
Office: Engineering Building 205