Dr. Philip B. Gallagher
Assistant Professor of Technical Communication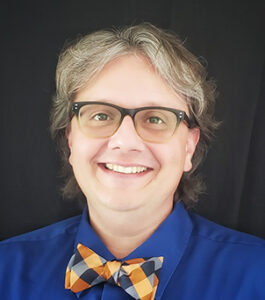 Dr. Philip B. Gallagher joined the Mercer University Department of Technical Communication in 2020 after graduating from Iowa State University of Science and Technology. Based on his research experience in ISU's Studio for New Media, Eye Tracking Lab, and UX & Usability Lab, Dr. Gallagher integrates UX design and biometric research into Technical Communication. He teaches a 21st century combination of technical communication and UX engineering skills to Mercer students, while supporting undergraduate research.
Dr. Gallagher is a member of the Society for Technical Communication, the Association of Teachers of Technical Writing, and the Association for Computing Machinery's Special Interest Group on the Design of Communication. His work is featured in the Journal of Interactive Technology and Pedagogy, ACM's Special Interest Group on Design of Communication annual conference proceedings, and in a book of recent scholarship published by the International Visual Literacy Association.
Education
Ph.D. in Rhetoric and Professional Communication, Iowa State University
M.A. in Composition and Rhetoric, Eastern Illinois University
B.A. in English, Eastern Illinois University
A.A. in English, Lake Land College
Specialization
User-Experience Design (UXD)
User-Centered Design (UCD)
Design Thinking Processes
Writing Technology & Ecology
Written, Oral, Visual, & Electronic Rhetoric
Digital Knowledge Management
UX, Qualitative, & Phenomenological Research
Research/Professional/Teaching Interests
Dr. Gallagher's primary directive is teaching students innovative communication and design skills for the future of industry. Through communication-as-design pedagogy and UX research, he aims to provide his pupils with professional and technical communication expertise. To this end, Dr. Gallagher conducts research alongside his students on the impact of innovative pedagogies, the effects of technology on communication environments, and user-experiences with technical artifacts.
Other Interests
Dr. Gallagher participates in a number of outdoor activities (e.g. hiking, biking, swimming, gardening, nature forays, birding, etc.). Additionally, he enjoys many family pastimes like playing video games, watching movies, and reading books with loved ones. His spouse claims he also makes epic pizza from scratch.
Recent Publications
Gallagher, P.B., Meister, P., & Russell, D.R. (2021). Phenomenology of Writing with Unfamiliar tools in a semi-public environment: A case study. Computers and Composition, 62, 1-23.  https://doi.org/10.1016/j.compcom.2021.102668
Gallagher, P.B. & Vance, B. (2021). Teaching with Google Workspace Platforms in Agile, Team-based Communication Situations. 2021 STC Technical Communication Summit Proceedings, 55-61. Society for Technical Communication. https://summit.stc.org/wp-content/uploads/2021/05/2021STCSummit.pdf
Gallagher, P. B. (2020). Design: Changing zeitgeists, changing communication. In D. M. Baylen (Ed.), Dreams and inspirations: The book of selected readings 2018 (pp. 151-162). International Visual Literacy Association. https://ivla.org/wp-content/uploads/2020/05/gallagher.pdf
Gallagher, P. B. (2019). Changing culture, changing publics: Redesigning the rhetorical public. Journal of Interactive Technology and Pedagogy, 16. https://jitp.commons.gc.cuny.edu/changing-culture-changing-public-redesigning-the-rhetorical-public/
Gallagher, P. B. (2019). Redesigning audiences in technical communication. SIGDOC '19: Proceedings of the 37th ACM International Conference on the Design of Communication, 3, 1-10. https://doi.org/10.1145/3328020.3353914
Contact
---
478.301.2299
gallagher_pb@mercer.edu
Science and Engineering Building 240