Dr. Philip T. McCreanor
Professor and Chair of Environmental and Civil Engineering
Director of Engineering Honors Program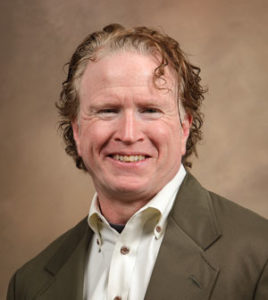 Dr. Philip McCreanor joined the School of Engineering's Faculty in the fall of 2019 as an Assistant Professor. He is now a Tenured, Full Professor and Director of the Engineering Scholars Track of the University Honors Program.
He is a member of the Tau Beta Pi , Sigma Xi, and Phi Kappa Phi Honor Societies, and has been recognized as an Outstanding Referee by Waste Management's Journal of Integrated Waste Management, Science, and Technology. He has received the Mercer University / Vulcan Materials Company Innovations in Teaching Award, was recognized by the American Society for Engineering Education Southeastern Section's with and Outstanding Mid-Career Teaching Award, and was inducted as a Georgia Governor's Teaching Fellow.
Dr. McCreanor collaborates with the Technical Communication Department, Tift College of Education, and Department of Physical Therapy to host GoBabyGo build events – a mobility to sociability program for children with disabilities.
Education
Ph.D., Environmental Engineering, University of Central Florida
M.S., Environmental Science, University of Central Florida
B.S., Mechanical Engineering, University of Miami
Specializations
Solid Waste Management, On-site Residential Gray Water Treatment, and Adaptive Toys
Professional Interests
Dr. McCreanor's professional interests include bioreactor municipal solid waste landfills, unsaturated fluid flow, treatment of gray water for landscape irrigation, adaptive toy projects, and GoBabyGo vehicle modifications.
Recent Publications
Publications
McCreanor, P.. Daniels, E., Vanness, E., Patel, M., Eastern, T., Attached Growth Biological Treatment Of Residential Gray Water With Eljen® Gsf Modules And #20 Filter Sand, Proceedings of the 2019 Onsite Wastewater Mega-Conference, Loveland, Colorado, October 13-16, 2019.
Vanness, E., Dornisch, A., McCreanor, P., Treatment of Residential Gray Water with a Recirculating Eljen GSF® and #20 Filter Sand Attached Growth Biological Treatment Unit, GEHA Journal, Official Publication of the Georgia Environmental Health Association, Volume 42, June 2019.
McCreanor, P. T., Keesbury, S., Watson, R. B., Engineering Scholars+ Tift School of Education+ Technical Communication= Go Baby Go, Proceedings of the ASEE Southeastern Section Annual Conference Embry-Riddle Aeronautical University in Daytona Beach, FL, March 4-6, 2018.
Posters
McCreanor, P. T. (Presenter), 2018 Water & Health Conference – Where Science Meets Policy, "Landscape Irrigation with Treated Gray Water at a 3-Bedroom Macon Area Habitat forHumanity Home.," The Water Institute at University of North Carolina at Chapel Hill, Chapel Hill, NC, United States. (November 1, 2018).
Rexhausen, Victoria, Kim, Jin, Watson, Stevie, Khoja, Simran, Murphy, Griffin, Warner, Deryl Hart, McCreanor, Philip T., 'Gray Water Treatment System for Sustainable Home Irrigation', National Sustainable Design Expo, 2018 USA Science and Engineering Festival, Washington, D.C.
Presentations
McCreanor, P.T., Thoughts on critical thinking and the importance of reflection, Goizueta-Woodrow Wilson Enrichment Program, Atlanta, GA, June 2, 2018
Treatment of Residential Gray Water for On-site Landscape Irrigation at a 3-bedroom Habitat for Humanity Home in Macon, Georgia, 2018 Water Research Foundation Conference, Atlanta, GA, May 6-8, 2018.
McCreanor, P. T., Keesbury, S., Laforme Fiss, A. C., 2018 Go Baby Go Summit, Education, engineering, physical therapy, and technical communication make Mercer University's Go Baby Go!, Atlantic Beach. April 2018.
Keesbury, S., McCreanor, P., ASEE-SE, Engineering Scholars + Tift School of Education + Technical Communication = Go Baby Go, ASEE, Daytona Beach, March 4, 2018.
Student Posters Advised
Ferrel, Hailey, Capps, Phoebe, Field Scale Treatment Of Residential Gray Water, Georgia Association of Water Professionals 2019 Annual Conference & Expo, Savannah, GA, July 14 – 17, 2019.
Dornisch, Ariel, Vanness, Emilie, Gray Water Irrigation—Implementing Policy and Regulatory Change, SoCon Undergraduate Research Forum, Wofford College in Spartanburg, SC on October 27-29, 2017.
Gray Water Irrigation at Macon Area Habitat for Humanity Residences, 2013 Water and Health Conference: Science, Policy, and Innovation, University of North Carolina – Chapel Hill, October 14 – 18, 2013.
Contact
---
478.301.2044
mccreanor_pt@mercer.edu
Office: Engineering Building 101A