Dr. Richard O. Mines, Jr.
Professor Emeritus of Environmental and Civil Engineering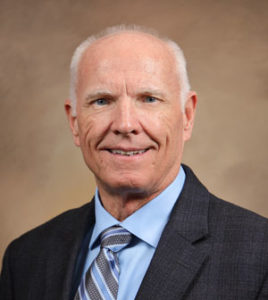 Dr. Richard O. Mines Jr. was born in Hot Springs, Virginia, the eldest of three children to Mr. and Mrs. Richard O. Mines. Dr. Mines' family came from humble beginnings. As a child, his family had no indoor plumbing and relied on a coal/wood stove to provide heat in the winter. Times were hard, but he had a loving and supportive home environment.
Growing up in the mountains, Dr. Mines enjoyed the outdoors and was an avid fisherman and hunter. This, in part, piqued an interest in the environment which has continued to this day. He was the first in his family to graduate from college and become an engineer.
Dr. Mines came to Mercer as the Program Director of Environmental Engineering in July 1998. He served in that role for ten years before becoming Graduate Program Director for nine years. Since 2017, he has served as the Startup Coordinator for Civil Engineering.
Dr. Mines and his wife, Beth, have two children: Andrew and Daniel. They have been members of Martha Bowman Memorial United Methodist Church and are active in the Francis Asbury Sunday School.
Education
Ph.D, Civil Engineering, Virginia Tech
M.S.E., Civil Engineering, University of Virginia
B.S., Civil Engineering, University of Virginia
Specializations
Environmental Engineering, Water Treatment, Wastewater Treatment, Modeling of Biological Treatment Systems, Biosolids Treatment, and Engineering Education
Professional Interests
For the majority of his technical career, Dr. Mines has focused on applied and basic research on the activated sludge process and nutrient removal systems. The Engineering Foundation sponsored his project on using Oxygen Uptake Rate as a biological process control parameter. Other funded projects include evaluation of the Micronair Process and full-scale Aerator Testing. Several sponsored and non-sponsored projects related to design, operation, and modeling of wastewater treatment facilities have been conducted. His research has been published in peer reviewed journals and conference proceedings.
Dr. Mines' educational research has focused on using multi-assignments in his classes to appeal to various learning types and using the "inverted classroom" approach. His research has been published in the Proceedings of ASEE National and Proceedings of ASEE Southeastern Section.
Dr. Mines has co-authored two books; the first was published in 2009 by Prentice Hall and is entitled Introduction to Environmental Engineering.
Other Interests
Dr. Mines is a lifelong athlete. In high school, he lettered in football, basketball, and baseball, and was all-district safety in football his senior year. At VMI, he was a three-year letterman in cross- country and track. His senior year, Dr. Mines served as captain of the cross-country team, co-captain of the indoor track team, and tri-captain of the outdoor track team. In 1974, he held the VMI 6-mile outdoor track record with a time of 31:57. Dr. Mines has completed an astonishing 56 marathons in 25 states and run over 82,000 miles to date. In 2007, he was inducted into the Bath County Athletic Hall of Fame.
Recent Publications
Richard O. Mines, Jr., "Reflections about Using a Hybrid Inverted Classroom in a Sophomore Environmental Engineering Course", Proceedings ASEE Southeastern Section, March 2020.
Richard O. Mines, Jr., "Oxygen transfer parameters and oxygen uptake rates revisited", Journal of Environmental Science and Health, Part A, November 2019.
Richard O. Mines, Jr., Matthew C. Callier, Benjamin J. Drabek & André J. Butler, "Comparison of oxygen transfer parameters and oxygen demands in bioreactors operated at low and high dissolved oxygen levels", Journal of Environmental Science and Health, Part A, October 2016.
Contact
---
478.301.2347
mines_ro@mercer.edu
Website: Dr. Richard O. Mines, Jr.
Office: Engineering Building 116A