Dr. Wade H. Shaw
Professor Emeritus of Systems Engineering and Former Dean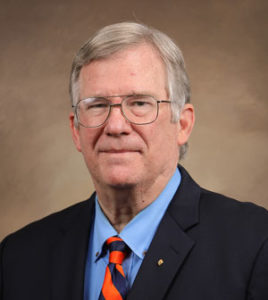 Dr. Wade Shaw joined Mercer Engineering as the Dean and Georgia Kaolin Industry Chair in Summer 2009. His service as Dean helped grow the school significantly as new programs were developed and new laboratories were constructed. Faculty sabbaticals were restarted and programs like Mercer On Mission (MoM), Mercer Summer Engineering Experience (MeSEE), and GoBabyGo blossomed into self-sustaining programs. Dr. Shaw returned to full-time faculty status in 2017 to resume teaching, research, consulting, and service.
Education
Ph.D., Engineering Management, Clemson University
M.S., Systems Engineering, Clemson University
B.S., Electrical Engineering, Clemson University
Specializations
Systems Engineering, Simulation Modeling, and Product/Process Design
Professional Interests
Dr. Shaw's research and consulting is aimed at improving product/process quality through experimentation and response surface modeling. His most recent project is the development of a course support architecture he calls Letters for Learning (L4L).
Other Interests
Dr. Shaw incorporates quality engineering and project management in courses that support both graduate and undergraduate students. He is a registered Professional Engineer (PE), a Fellow of the Institute of Electrical & Electronic Engineers, and a recipient of the 2000 Millennium Medal for his service as Editor-in-Chief and contributions to engineering education.
Recent Publications
3D Design and Model Construction, Wade H. Shaw, Georgia Engineer, February 2016.
C. E. Otero, W. H. Shaw, I. Kostanic and L. D. Otero, "Multiresponse Optimization of Stochastic WSN Deployment Using Response Surface Methodology and Desirability Functions," in IEEE Systems Journal, vol. 4, no. 1, pp. 39-48, March 2010.
T. Roger Manley, Wade H. Shaw & Robert C. Manley (2007) Project Partnering: A Medium for Private and Public Sector Collaboration, Engineering Management Journal, 19:2, 3-11, DOI: 10.1080/10429247.2007.11431726
M. Chuang and W. H. Shaw, "RFID: Integration Stages in Supply Chain Management," in IEEE Engineering Management Review, vol. 35, no. 2, pp. 80-87, Second Quarter 2007.
Contact
---
478.301.4260
shaw_wh@mercer.edu
Office: Science and Engineering Building 226