Professor Lisa Newman
Instructor of Technical Communication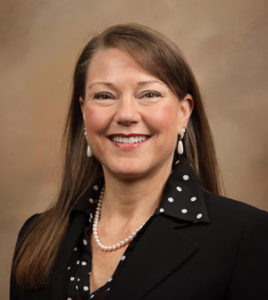 Professor Lisa Newman joined Mercer University's School of Engineering (MUSE) as a faculty member in 2016. She is a Double Bear, a member of Phi Kappa Phi Honor Society, and is pursuing her Ph.D. at the University of Georgia.
Professor Newman came to Mercer as a senior-level professional with 22 years of industry experience. Her work included executive leadership, compliance, regulatory affairs, and project management. Professor Newman also served on alternative fuel task forces and committees, spoke on discussion panels, and at conferences.
Professor Newman views her teaching as a partnership and treats students as future professionals by holding them to high performance and ethical standards. Her goal is to inspire, motivate, and challenge each student. She helps students understand the real-world application of the course material by providing examples of actual work and by sharing her experiences. She feels it is crucial for them to leave with relevant, practical knowledge to help them in their careers.
Education
M.S., Technical Communication Management, Mercer University
B.S., Technical Communication, Mercer University
Specializations
Technical Communication, Information and Web Design, and Cybersecurity
Professional Interests
Professor Newman focuses mainly on cybersecurity, organization development, organization behavior, social engineering, awareness culture, human factors, insider threat, crisis management, and open systems.
Other Interests
Professor Newman is from Casper, Wyo., and served eight years in the Marine Corps. She is passionate about fitness, nutrition, and ballroom dancing.
Contact
---
478.301.2417
newman_lm@mercer.edu
Office: Science and Engineering Building 231