Rebecca Etter
Visiting Instructor of Environmental and Civil Engineering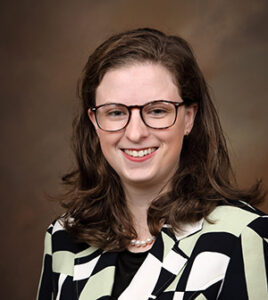 Rebecca Etter has been a Visiting Instructor in the School of Environmental and Civil Engineering since 2022. She has previously worked for Central Georgia Technical College's Engineering Technology Department as well as Mercer University's School of Engineering as an adjunct instructor. She is a member of Tau Beta Pi Engineer Honor Society since her induction in her junior year. She is a certified Engineer in Training (EIT) in the state of Georgia.
Education
M.S.E., Environmental Engineering, Mercer University
B.S.E., Environmental Engineering, Mercer University
Area(s) of Specialization
Impact of KLa on Bioreactor Geometry
Particulate Air Quality Monitoring
Research/Professional/Teaching Interests
Rebecca has published and presented research on the impact of tank geometry on oxygen transfer coefficient (KLa) with respect to biological wastewater treatment. She has also helped to create a device to measure indoor air quality (DustDuino). Additionally, she helped to create a full-scale break pressure tank model to support Mercer-on-Mission to the Dominican Republic.
Contact
---
478.301.2271
etter_rg@mercer.edu