Robert Gill
Instructor of Mechanical Engineering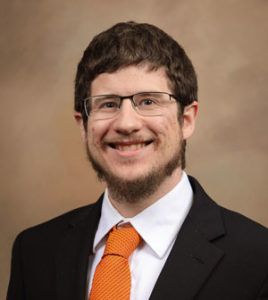 Robert (Robby) Gill is a Mechanical Engineer from Colorado who specializes in instrumentation and solar energy engineering. He arrived at Mercer in 2018.
Education
M.S., Mechanical Engineering, Georgia Institute of Technology
B.S., Engineering (Concentration: Mechanical), Colorado School of Mines
Specializations
Thermal Sciences, Concentrated Solar Power, Renewable Energy, and Instrumentation
Research/Professional Interests
Professor Gill's research interests include concentrated solar power and novel instrumentation. He teaches Engineering Thermodynamics I & II, Experimental Methods, and Mechanical Engineering Lab I & II.
Other Interests
Running, Biking, and Auto Racing
Recent Publications
Marek, Kenneth and Gill, Robert. "Continuing Laboratory Changes: Looking Forward and Back." 2020 ASEE Southeastern Section Conference, (2020).
Bush, Evan; Schlichting, Karl-Philipp; Gill, Robert; Jeter, Sheldon; Loutzenhiser, Peter. "Design and Characterization of a Novel Upward Flow Reactor for Determining High-Temperature Thermal Reduction Kinetics for Solar-Driven Processes." Journal of Solar Energy Engineering, 139, 5 (2017). DOI: 10.1115/1.4037191
Gill, Robert; Bush, Evan; Haueter, Philipp; and Loutzenhiser, Peter. "Characterization of a 6 kW High-Flux Solar Simulator with an Array of Xenon Arc Lamps Capable of Concentrations of Nearly 5000 Suns." Review of Scientific Instruments, 86, 125107 (2015). DOI: 10.1063/1.4936976
Contact
---
478.301.2418
gill_rj@mercer.edu
Office: Engineering Building 101F