Dr. Joanna Thomas
Assistant Professor of Biomedical Engineering
Coordinator for Research and BEAR Day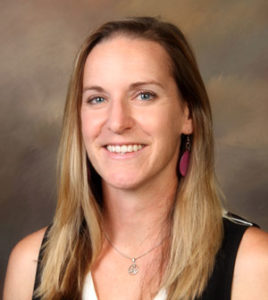 After completing her Ph.D. in Bioengineering at the University of California San Diego, Dr. Joanna Thomas worked in the biomedical device industry and academic research before joining the MUSE faculty in 2016. She teaches the Tissue and Cell Engineering course sequence in the Biomedical Engineering Department and oversees Mercer's REU How To program. Dr. Thomas's research is focused on design and fabrication of medical devices and therapies (and systems to test them) to treat hepatobiliary diseases such as primary sclerosing cholangitis.
Education
Ph.D, Bioengineering, University of California San Diego
M.S., Chemical Engineering, Colorado State University
B.S., Electrical Engineering (bioinstrumentation), Kansas State University
Specializations
Biomaterials, Autoimmune Disorders, 3D Printing, and Tissue Engineering
Professional Interests
Dr. Thomas is interested in utilizing biomaterials in the treatment of human disease and tissue regeneration. Dr. Thomas has a particular interest in hepatobiliary diseases because there is an unmet need for new or improved treatments for autoimmune liver diseases such as primary sclerosing cholangitis. In the lab, Dr. Thomas is working to design and fabricate 3D printed devices and testing equipment focusing on new ways to deliver drugs to their cell and tissue targets.
Dr. Thomas has experience evaluating novel compounds for their efficacy in vitro and in vivo. She also has working knowledge of device design and material biocompatibility from her time in bioprosthetic heart valve R&D. Dr. Thomas recognizes the utility of interdisciplinary teams, so projects in her lab have involved collaborations with colleagues in chemistry, mechanical engineering and biomedical sciences.
Other Interests
Gardening, Traveling, Walking our dogs, Yoga, and Trivia
Recent Publications
Thomas J and Codone S. Transforming a Biomedical Engineering Seminar Course: More Than Meets the Eye. Poster presentation. Lilly Conference San Diego; February 2020.
Magat JM, Thomas JL, Dumouchel JP, Murray F, Li WX, Li J. Endogenous IL-33 and its auto-amplification of IL-33/ST2 pathway play an important role in asthma. J Immunol; January 2020.
Sonntag M, Cimino A, Rajapaksha M, Thomas J. Improved Control over Nanofiber Deposition with a Programmable 3-AxisElectrospinning Apparatus. Journal of Electrostatics. Nov 2019.
Li J, Saruta K, Dumouchel J, Magat J, Thomas JL, Ajami D, Rebek M, Rebek Jr J, Bibgy TD. Small Molecule Mimetics of alpha-Helical Domain of IRAK2 Attenuate the Proinflammatory Effects of IL-33 in Asthma-like Mouse Models. J Immunol; 4 May 2018.
Thomas J. Identifying potential causes of attrition in the Biomedical Engineering Specialization at Mercer University. ASEE Zone II Conference Proceedings. March 2017.
Contact
---
478.301.2437
Thomas_jl@mercer.edu
Office: Science and Engineering Building 224